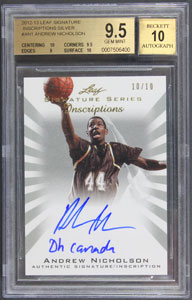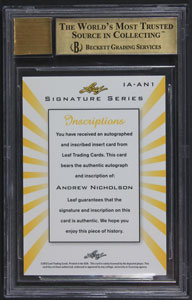 This card is an autographed rookie card of Andrew Nicholson, which features him wearing his Bonnies jersey, his autograph, and a small inscription from Nicholson which reads "Oh Canada." It is from the 2012-2013 Leaf Signature series, under the Silver Inscription set. It is the only Andrew Nicholson card graded by Beckett from this set, and is graded at a Beckett 9.5 for the card alone, while the autograph is graded as a 10.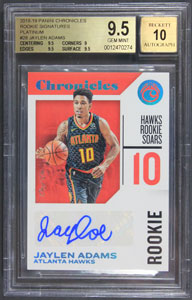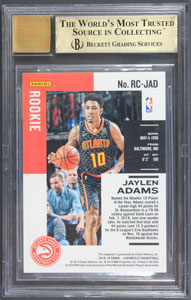 This Jaylen Adams card is from the 2018-2019 Rookie Signature Platinum set of cards and is the only Jaylen Adams card which Beckett has graded from this set. The card received a 9.5 grade by Beckett for the four marks which Beckett grades cards on, and a score of 10 for the autograph.


Andrew Nicholson (2012-13 Prestige)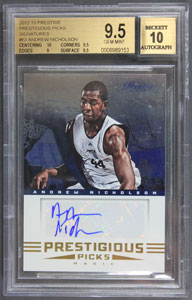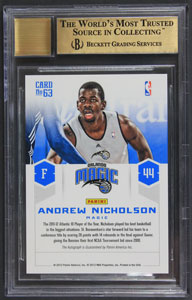 This card from the 2012-13 Prestige set Prestigious Picks, features Andrew Nicholson and his autograph. The card is one of just three Andrew Nicholson cards which Beckett has graded from this set, and received a grade of 9.5 for the card and a 10 for the signature.



Andrew Nicholson (2012-13 Totally Certified)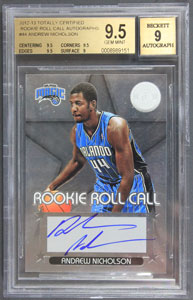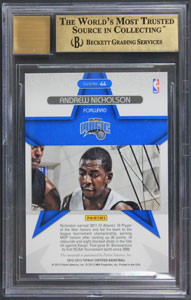 Andrew Nicholson (2012-13 Totally Certified)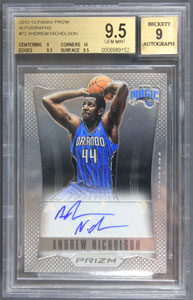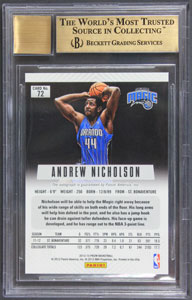 Andrew Nicholson (2012-13 Leaf Signature)