The Day Lincoln Was Shot
"What makes a good writer of history is a guy who is suspicious. Suspicion marks the real difference between the man who wants to write honest history and the one who'd just rather write a good story." -Jim Bishop
After 25 years of research, 25 notebooks filled with information, and reading 7 million words worth of research, Jim Bishop's book was ready for publication. The Day Lincoln Was Shot became an instant hit, receiving international acclaim. It was on the NY Times Best Sellers List from February 20, 1955 to June 26, 1955. It was also chosen as the Book-of-the-Month Club for February of 1955, just weeks after it was first published. Since then, The Day Lincoln Was Shot has been translated into many languages, has been on other Best Sellers Lists, and has been printed in multiple editions.
Although there are thousands of books written on the subject, Bishop was the first to succeed at giving a minute-by-minute account of the last 24 hours of President Abraham Lincoln's life. Also included in his book are detailed accounts into the lives of other people who played a role in Lincoln's last day on earth. Some of those people are Mary Todd Lincoln (his wife), John Wilkes Booth (the assassin), Andrew Johnson (Vice President), Edwin Stanton (Secretary of War), William H. Seward (Secretary of State), and Lewis Payne and George Atzerodt (Booth's accomplices). While compiling his information, Bishop visited Ford's Theatre, Petersen House (the place where Lincoln died), the War Department, New York Public Library, the Library of Congress, and other sites. His thorough research is evident throughout all 320 pages of his book. Despite the fact that the outcome is universally known, Bishop does a wonderful job of at keeping his audience on the edge of their seats.
The Day Lincoln Was Shot is an impressive story that combines both biography and history in which the reader is taken through the twists and turns of Lincoln's last day. There were many bizarre occurrences that preceded his death, including Lincoln's dream the morning before the shooting at Ford's Theatre. He had dreamed of his assassination, believing with all his heart that he would not be alive for much longer. There were also several failed kidnapping attempts by John Wilkes Booth. But eventually he succeeded at shooting the President on April 14th, 1865. Had Abraham Lincoln died of natural causes after his time in office, he might have been regarded as a controversial figure. However, his martyrdom created a national hero, which Jim Bishop portrayed extremely well.
Here are a few newspaper clippings from early 1955, giving reviews for Bishop's The Day Lincoln Was Shot.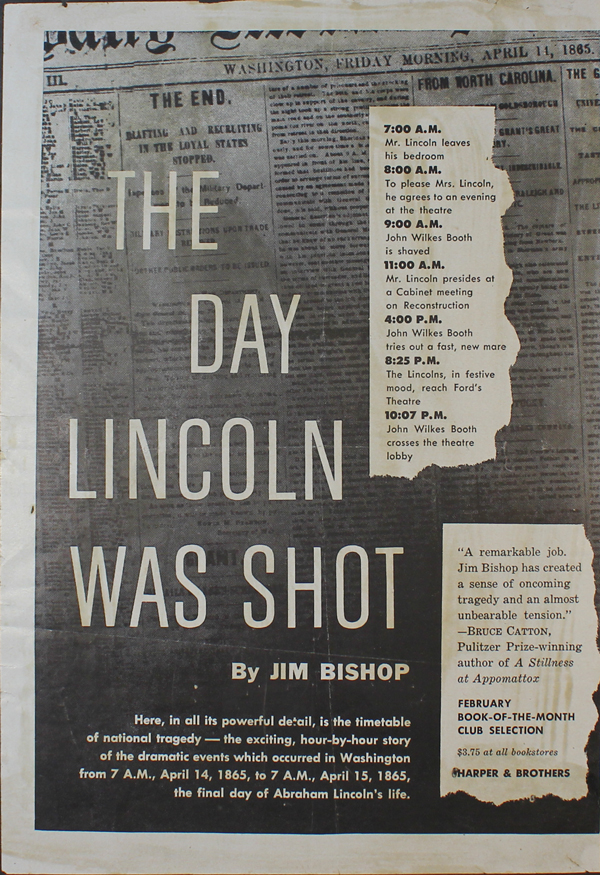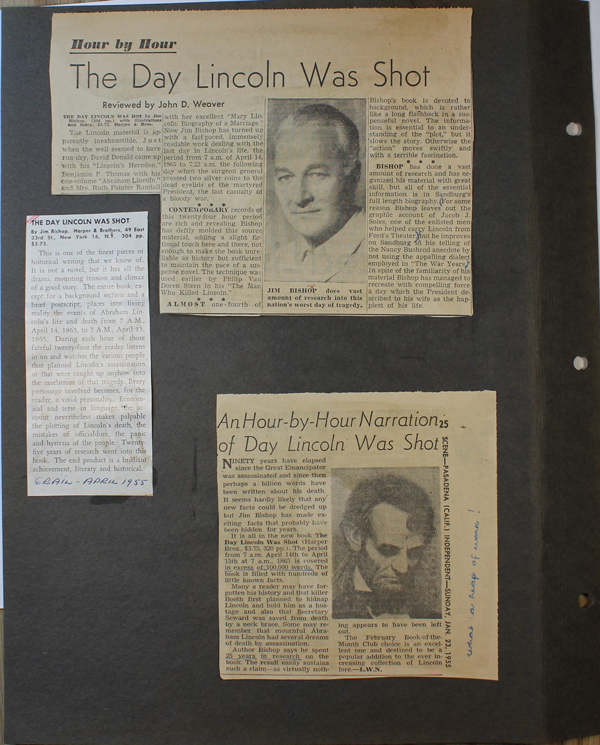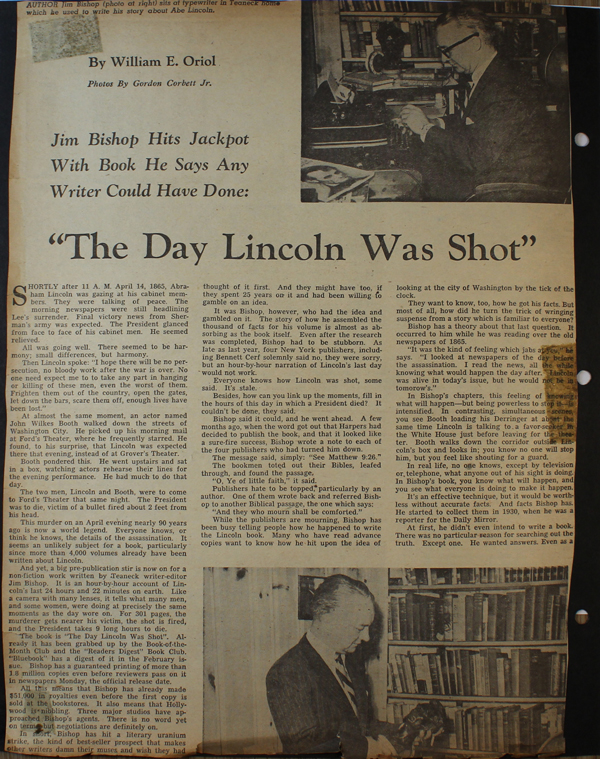 Newspaper Reviews
"Without covering anything new, the author has reassembled existing fragments so successfully that the result seems new."
-Kenneth B. Roberts, Providence RI Journal, January 30, 1955
"With an impressive economy of words, Bishop makes each one of them [those directly connected with the assassination] come to life in the proper place, at the proper time."
-Patrick Laughlin, Virginia Pilot (Norfolk), January 30, 1955
"But when and where has anyone made the killer, John Wilkes Booth, more than a chalk figure holding a gun? Mr. Bishop makes you see him- a gifted young actor, popular, successful, but overshadowed by his famous brother Edwin and obsessed with a determination to 'go down in history' and plagued by an unreasoning, pathological hatred of the President."
-Carter Brooke Jones, The Sunday Star, January 30, 1955
"Minutes before the assassination, Booth was drinking whiskey and water at a bar across the street from the theater. Down the bar a short distance was the president's bodyguard, Parker, taking a few quick ones with the coachman. Another drinker recognized Booth, lifted his glass and said gaily: 'You'll never be the actor your father was.' Booth smiled and nodded. 'When I leave the stage,' he said, 'I will be the most famous man in America.'"
-Gerald Kloss, Milwaukee Journal, January 30, 1955
"...it is a masterpiece, enhanced with rare portraits, fresh historical details, and combining the arts of novel, biography, and history."
-Ruth Tufts Cosgrove, Boston Daily Enterprise, February 8, 1955
"No book we can remember has had the treatment this one's getting- front-page book section reviews, then full-length book columns, now magazine lead treatment."
-William A. Caldwell, Bergen Evening Record, February 12, 1955
"Here, too, is found excellent social history packed into vivid background action. Intimate White House scenes, back-stage maneuvering of Cabinet members, Lincoln's death, Stanton's eight hours of actual dictatorship..."
-William Miller Burke, The Sign, April 1955
"The basic conception was brilliant and your handling even more so."
-Roy Cohen, in a letter to Bishop, April 20, 1955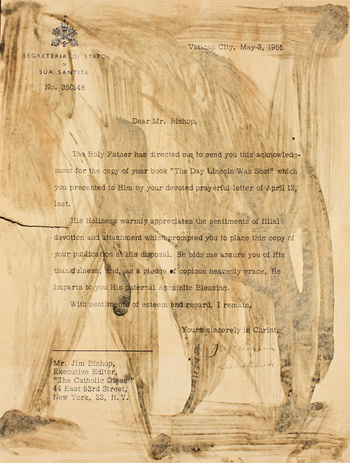 A letter from Vatican City, informing Bishop of the Pope's gratitude for sending a free copy of his book.
| | |
| --- | --- |
| | |
| This is the first page of Jim Bishop's original manuscript for The Day Lincoln Was Shot. | Here is another excerpt from Bishop's original manuscript. |
The Day Lincoln was Shot [typescript]
11 pages inside blue paper report cover; 54.5 x 70 cm.

Physical Description:
Yellow label, 30 x 21 cm., adhered to report cover from:
MCA, Music Corporation of America Agency
598 Madison Avenue
New York 22, N.Y.
Notes:
Title typed on label:
THE DAY LINCOLN WAS SHOT (an outline)
by
JIM BISHOP
Inside report cover is carbon copy on unlined paper 51.5 x 66.5 cm. Typed on one side. Address in upper left corner of first page:
857 Garrison Avenue
Teaneck, N.J.
Teaneck 6-0084
Title on first page:
An Outline of a Book Called
THE DAY LINCOLN WAS SHOT
by Jim Bishop
Reverse of first page is stamped with red accession number 192506.
Some handwritten corrections, several strikeovers throughout proposal; pages are three-hole punched and inserted into cover with two of the three brads present in such covers to hold material firmly in place.
Item is the proposal to write a book that follows the "actions and words" of the leading characters in President Abraham Lincoln's death from 7:00 A.M. on April 14, 1865 to 7:00 A.M. on April 15, 1865. Justification for writing such a work is based on the bits and pieces of information in many works that could benefit from being drawn together in one work. In addition several original manuscripts, diaries, and transcripts were available to fill in missing information.
The proposal describes first the historical context of the day of President Lincoln's assassination. The remainder of the proposal describes in brief Lincoln's day on April 14, 1865. The last three paragraphs repeat the statement that Bishop possesses much information and reiterates the need for further research. Bishop proposes to acquire "twenty-four loose-leaf books, each marked with an hour of the day". Facts for each hour will be typed into the appropriate book. In addition Bishop proposes to include background material on each character. He closes with the statement that this could be "a very popular book...one that will have to be consulted by future biographers of Lincoln."
---
The Day Lincoln was Shot [typescript]
505 sheets 22.5 x 40.5 cm.

Physical Description:
Loose-leaf notebook pages on lined paper with three holes at top, some worn through. Pages are in a stack with no cover(s). Pages are typed and sometimes contain handwritten material, often on both sides of the sheet. Information on most pages is crossed out. Much information is in a narrative format. Some appears to be more disconnected notes. Some pages list a time - the assumption is times listed refer to the time during the twenty-four hour period covered in the book The Day Lincoln was Shot. There is no apparent numbering of pages.
A two-sheet (3 pages) section titled "Research" lists forty-six resources (books, locations, or record sources). Most of the resources are works on the life and death of Abraham Lincoln or other persons involved in Lincoln's death such as John Wilkes Booth. Many later pages carry numbers that could refer to the various resources listed.
Following the list of resources are ten sheets labelled "THE ERA" describing the United States and Washington, D.C. in particular immediate following the War Between the States. This is followed by two sheets titled "ERA: THE WHITE HOUSE".
Two sheets describe Arnold and O'Laughlin.
One sheet describes Atzerodt.
Fourteen sheets of information on John Wilkes Booth.
The notes next contain generally single sheets - many notes include reference numbers in parentheses about each of the following:
David Herold
John T. Holahan
Herndon House
Olivia Jenkins
John M. Lloyd
John Matthews
Dr. Samual Mudd
Mrs. Emma Offutt
Lewis Paine (two sheets)
Jocob Ritterspaugh
Ed Spangler
Anna Surratt
John Surratt (two sheets)
Mrs. Mary Surratt (two sheets)
Ella Turner
Louis J. Weichman (two sheets)
Ford's Theatre (two sheets)
Thirteen sheets covering various times near noon, April 14, 1865.
Four narrative sheets on Mary Todd Lincoln.
One sheet on Robert Todd Lincoln.
One sheet on Willie Lincoln.
One sheet "President Lincoln's Cabinet follows. After that, begin with Letter (?) "A"". Then single sheets, except where noted otherwise, for each of the following:
Hugh McCullough
William Dennison (2 sheets)
Andrew Johnson (4 sheets)
William H. Seward (2 sheets)
James Speed
Edwin McMasters Stanton (3 sheets)
John P. Usher
Gideon Welles
General Christopher Augur
Col. Lafayette C. Baker
Surgeon-General Jos. K. Barnes
David Bates
Hon. John A. Bingham
Col. Henry L. Burnett
Schuyler Colfax
Lieut. Col. Everton J. Conger
Sgt. Silas T. Cobb
Sgt. Boston Corbett
Thomas Crook
John Deery
Lt. Edward P. Doherty
Thomas T. Eckert
Gen. Thomas Ewing
Charles Forbes
John T. Ford (2 sheets)
Ulysses S. Grant
Bessie Hale
Miss Clara Harris
Senator James Harlan
John Hay
Joseph Holt
Major Gen. David Hunter
Hon. Reverdy Johnson
Ward Hill Lamon
James H. Lane
John Matthews
Quartermaster Gen. Montgomery C. Meigs
John G. Nicolay
Major James Rowan O'Beirne
John F. Parker
Allan Pinkerton
Major Henry R. Rathbone (2 sheets)
Major A.C. Richards
Winfield Scott
Peter Taltavul
Capt. William Williams
Mayor Wallach
101 sheets with dates preceding April 14, 1865
275 sheets describing events during various time periods of the 24 hours preceding Lincoln's death. This section contains many handwritten notes and notes to insert various items.
---
Correspondence
Letter from Eric Suddleson, O'Melveny & Meyers, LLP, to Danny Greenberg regarding rights to book. Enclosed is agreement with Robert Greenwald Productions, Inc. Sept. 16, 1996. (2007-002)
---
Miscellaneous Lincoln Material (2007-002)
"The Deadly Parallel. Lincoln-Kennedy" File. Includes typescripts of King Features column for Dec. 30, 1963 and Playboy article for Dec. 1965 (Article filed in "Articles-Originals".) Includes Lincoln-Kennedy Penny promotional piece.
Postcard of Lincoln Memorial.
Copy of "Many 'Ifs' Fell Into Place the Day Lincoln Was Shot."
Ad for TV show of same title. (2008-002)
"A Comment by Bruce Catton" Book-of-the-Month Club. (2008-002)
---
described by Nancy Cook
Introduction by Margaret Atherton, archival intern, Spring 2013
---
For information about the Jim Bishop Archives contact:
Archives
(archives@sbu.edu)
telephone: 716.375.2322
---
Friedsam Memorial Library
St. Bonaventure University
St. Bonaventure, NY 14778 USA
Telephone: 716.375.2323
Fax: 716.375.2389
Information Desk: 716.375.2164; ref@sbu.edu
---
Friedsam Memorial Library Home Page
St. Bonaventure University Home Page
Page last updated: 08 March 2013, updated by D. Frank 2007-002
URL: http://archives.sbu.edu/friedsam/jimbishop/lincoln.htm