Biology Department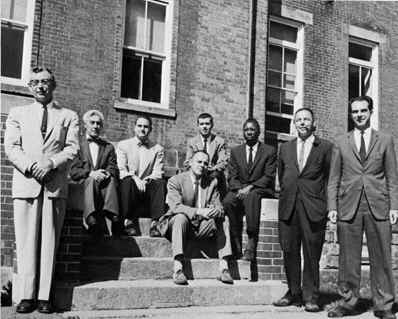 (Biology Department in 1964)
Left to Right: Dr. Anderson (chairman), Dr. Worden, Dr. Hartman, Dr. Bothner, Dr. Alico, Dr. Jacques, Dr. Eaton, Dr. Fincocchio.
Biology courses had been offered at St. Bonaventure's college since 1900, but the Biology Department was established at the college in 1926 as part of the School of Sciences, with James A. McLaughlin serving as the department's first chairman. In 1951, a Ph.D. Program was established in the Biology department, but this program was reconsidered in 1979 and phased out in the early 1980s.
Biology has witnessed many important events in Bonaventure history. For example, in 1933, Lynch Hall, the building which housed the department, was struck by lightning and completely gutted by the ensuing fire. Soon the department was housed in a new building, De La Roche, which still stands today. The Biology department has also recently benefitted from the 2008 opening of the William F. Walsh Science Center.
This site reviews some of the important dates in the history of the biology program and many of its distinguished faculty members and their contributions.
Website created by Greg Shugrue
Spring 2008 Archives Internship (History 495)
Updated & edited by Ellen Winger, Summer 2010.
Last update:12 December 2011