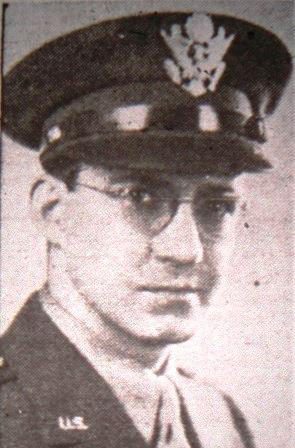 Reverend Ralph A. Antonucci
(April 20, 1914 - May 5, 1945)
Fr. Ralph was born April 20, 1914. The son of Pasquale Antonucci and Dalinda Orlando, he had six siblings, Rose (Sister Paschal, professed 1936), Petrine ("Pete"), Frances ("Frank"), Anthony ("Tony"), Anna ("Hanno"), and Angelo ("Chubby," Fr. Claude, ordained 1953). From 1927-1931, Fr. Ralph attended South Park High School in Buffalo, NY. After he graduated, he completed two years at Niagara University from 1931 to 1933. In 1933, he began his studies at St. Bonaventure College, where he earned a degree in Ancient Languages in 1935. He then entered the seminary at St. Bonaventure, completing his studies there in 1939. Fr. Ralph was ordained by Bishop Duffy at St. Joseph's Cathedral in Buffalo, NY on June 3, 1939.
Fr. Ralph's first assignment was as assistant pastor of Holy Cross Church in Buffalo from July 1939 to April 1940. He was then transferred to Our Lady of Loretto Church in Buffalo, NY, where he served as assistant pastor from April 1940 to April 1943. Fr. Ralph's responsibilities included parish duties, overseeing the youth organizations, religious instruction, and overseeing the social and recreational activities of the church. In April 1943, Fr. Ralph enlisted in the Army and reported for duty on May 8, 1943. He attended the Chaplain School at Harvard University from May 9, 1943 to June 5, 1943. Fr. Ralph then went to Ft. Benning, Georgia for additional training from June 7, 1943 to November 8, 1943. From November 9, 1943 to January 3, 1944, Fr. Ralph was stationed at the headquarters of the 10th Armored Division. On January 4, 1944, he was transferred to the 196th Field Artillery Group. Fr. Ralph left the United States for the European Theater on February 10, 1944. He was most likely stationed in the United Kingdom until he arrived in France on June 18, 1944. During his station in the United Kingdom, Fr. Ralph was promoted to Captain on June 1, 1944. He was part of the Bronze Service Star Campaign in Normandy and Northern France in late 1944. Throughout his time in the European Theater, Fr. Ralph traveled to Belgium, Holland, and Germany with the 196th Field Artillery Group, which was part of the 3rd Army until it transferred to the 9th Army in October 1944.
On May 2, 1945, Fr. Ralph was wounded in action when his cub plane was shot down by a Soviet plane in Germany near Seehausen. He was taken to the 91st Evacuation Hospital in Gardelegen, Germany where he succumbed to his wounds on May 5, 1945. He was interred at the 9th Army Cemetery in the province of Margraten, Limburg, Holland. His body was later returned to the family in Buffalo, NY and buried at Mount Calvary Cemetery. Fr. Ralph was awarded the Purple Heart posthumously on June 7, 1945.
Letters written to Fr. Ralph's family after his death describe him as fair-minded, honest, and a pleasure to work with. Merton B. Green, a Protestant chaplain who worked with Fr. Ralph, described his admiration for Fr. Ralph's "utter and complete selflessness, and his genuine interest in the other fellow." Fr. Ralph was liked by all. The chaplain wrote that Fr. Ralph talked of his family with pride, and was someone who never forgot his task. The Colonel of the 196th Field Artillery Group, Edward R. Roberts, wrote, "in all my years of service I have never known a chaplain who performed his official duties more faithfully and efficiently." Fr. Ralph was always "cheerful, helpful, and on terms of friendly comradeship." He was trustworthy and inspired confidence to men even outside his own faith.