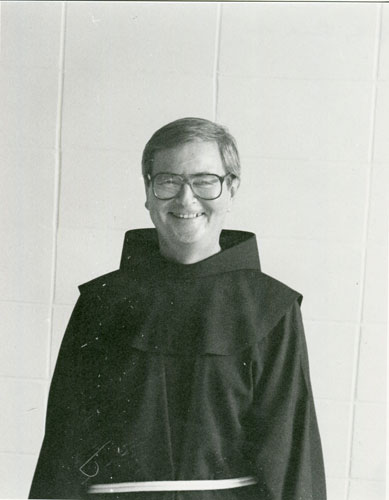 Fr. Roy Gasnick in 1982
St. Bonaventure University Archives
  Fr. Roy Gasnick (b. 1934), taught at St. Bonaventure for six years and was the director of student activities. He published a compilation book on St. Francis in 1980, entitled The Francis Book, which is an all-inclusive look at Francis' life with many contributors. He also teamed up with Marvel Comics and published the comic book, Francis Brother of the Universe. Fr. Gasnick, aided by Mary Jo Duffy, wrote the dialogue for the comic while John Buscema and Marie Severin prepared the illustrations.  The comic was published in several different languages, including Chinese, French, and Japanese. Currently, Fr. Gasnick serves retired Franciscans. The Gasnick Collection at St. Bonaventure includes first editions of the comic book, in several languages and the original lithographs and drafts of the comic book. Also included in the Gasnick Collection is Fr. Gasnick's draft for the Francis Book.
Sources: Duffy, Mary Jo., Roy M. Gasnick, Ken Ford, Richard Duprey, and Francis. Francis, Brother of the Universe: His Complete Life's Story. New York: Marvel Comics Group, 1980. Print.
"Fr. Roy M. Gasnick, OFM - Holy Name Province." Holy Name Province. N.p., n.d. Web. 02 Mar. 2015.
Gasnick, Roy M. The Francis Book: 800 Years with the Saint from Assisi. New York: Collier, 1980. Print.